Your Jacksonville Business Accounting & QuickBooks Experts

At The Blade Firm, my personalized service and attention to detail has earned a reputation as a trusted accounting advisor to Jacksonville business owners. The core of my clientele are small business owners and entrepreneurs, typically with offices of fewer than 50 employees. A certified accountant, I am an expert in all areas of corporate accounting, from simple bookkeeping and QuickBooks setup to more complicated payroll and business tax issues.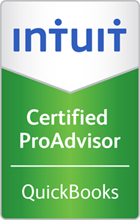 I am a full service accounting firm dedicated to the needs of Jacksonville's small business community. According to recent business statistics, there are more small businesses open in the U.S. right now than there were at the beginning of the recession. Professionals in all lines of work, when faced with potential unemployment, opted to try their hand at business ownership instead. While many of them have been wildly successful, others have found themselves in over their head, especially where accounting is concerned. If this sounds like you, then you should contact me today.
Whatever your business need, The Blade Firm is here to help. Call today for your free consultation and learn for yourself why the Jacksonville corporate community continues to choose The Blade Firm for their accounting needs.